They are done. now I just have to start working on the stuff due this summer but march swaps are done. i hope they ladies like them. So here they are. Some pictures were cut off but I will post direct links to those.

These first 5 are for the recipe swaps. I really love how the popcorn paper piecing came out and the stamped image on the cookie recipe. btw it is from close to my heart. oh and i love the cuttlekids monkey. i use him alot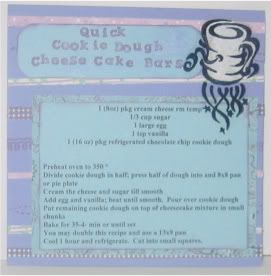 These elephants are for the Zoo handmade surprise set. i saw him on ebay and printed out the picture and copied it. isn't he cute. sorry i don't know who i got it from. i should have wrote that down huh?

See whole picture
HERE
This next set is for the Zoo photo mat or journaling box group. i of course chose photomat but I guess you could use it as journaling boxes too. I again saw this on a page that someone was selling on ebay. yep forgot to write the maker down. i did have to change it up as i couldn't find and giraff paper that wasn't HUGE. so we went with Zebra instead. See whole picture
HERE

This set was again seen on ebay. it was on an already done page like the zoo one above. they had a pencil in place of the ABC but Michaels no longer sells the pencils or at least the one i was at didn't have them. i added a little binder paper. it isn't actual paper but punched to look like it. i found this could lined scrapbook paper at Hobby lobby. some i had to draw the red line on and then some i was able to use the red line already on the paper. Check the full picture
HERE